HAIR LOSS AND BALDNESS DIAGNOSIS
The diagnostic assessment consists of three stages: a questionnaire to identify the causes of hair loss, a complete examination of your scalp, then the analysis of hair health. Hair loss is most often hereditary and hormonal, but it can be worsened by smoking, stress, pollution, nutritional deficiencies or may follow an emotional distress. The purpose of this first stage will also be to inform you of all the solutions that can be put at your disposal and how they can address your problem.
> all about HAIR LOSS AND BALDNESS DIAGNOSIS <
To effectively treat hair loss, the first medical appointment with Dr. Jean-Charles BAYOL is fundamental. As part of HAIRMEDICAL SUISSE, the consultation can be done at Laclinic-Montreux, or at the Beauty Suite in Lausanne, near from Geneva by train), depending on your place of residence and your wish.
This consultation includes a detailed interview, a careful clinical examination and reference photographs.
If tobacco consumption and stress promote hair loss, the most common cause in both men and women is androgenetic alopecia. It corresponds to a progressive miniaturization of the hair under the influence of many genes (heredity) and several hormones. Androgenetic alopecia is not a disease.
In case of doubt as to the cause of the loss of hair, and in order to evaluate its evolutionary prognosis, the clinical examination may be supplemented by a computerized macrophotographic analysis of one or more areas of the scalp, also called Phototrichogram.
In cases of alopecia in women, the physician will prescribe a simple blood test, in order to look for another common cause of hair loss: iron or vitamins deficiency, thyroid gland malfunction.
At the end of this first appointment, Dr. Jean-Charles BAYOL will provide you with a diagnostical report, as well as a customized but realistic treatment plan.
The most common world classification for male androgenetic alopecia is the Norwood-modified Hamilton classification (Figure 1):
Figure 1: Norwood-modified Hamilton classification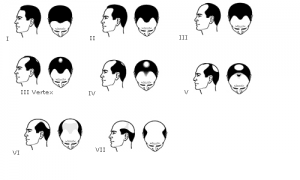 The most common world classification for female androgenetic alopecia is the Ludwig classification (Figure 2):
Figure 2: Ludwig classification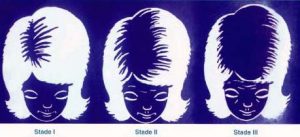 The treatment of androgenetic alopecia is double and includes:
The hair loss medical treatment. It is fundamental and indispensable. It aims to slow down or even to stop the fall, and to strengthen the hair.
The hair loss surgical treatment. It will be associated with the medical treatment to enable the hair regrowth on a balding area. The surgical technique consists almost exclusively in the hair transplant at HAIRMEDICAL SUISSE (Laclinic in Montreux near Lausanne, or at the Forever Laser Institute in Geneva). The hair collecting procedure will differ depending on the progress of the alopecia and on the patient's wishes.
Enregistrer
Enregistrer
Enregistrer